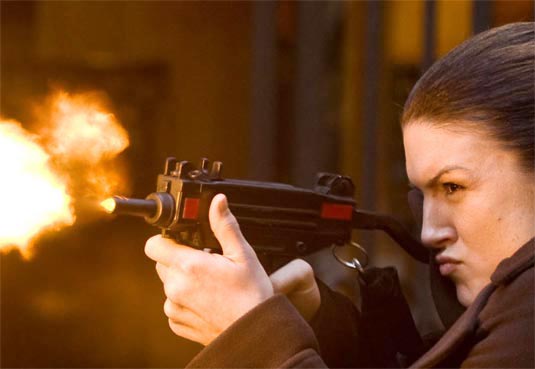 The first official photo from Academy Award-winning director Steven Soderbergh's action film Haywire has hit the web.
Mixed martial arts (MMA) superstar Gina Carano (American Gladiators) makes her feature film debut, starring and performing her own high-adrenaline stunts. The film's talented cast also includes Channing Tatum (GI Joe: Rise of the Cobra), Ewan McGregor (The Ghost Writer), Michael Fassbender (X-Men: First Class), Antonio Banderas (Desperado), Bill Paxton (Titanic), Michael Douglas (Wall Street: Money Never Sleeps) and Michael Angarano (Almost Famous).
In Haywire, an electrifying tale of espionage and betrayal, a female covert ops specialist (Gina Carano), who works in the deadly world of international operatives, strikes back after discovering she's been double-crossed by someone close to her in the agency. The film is produced by Gregory Jacobs (Ocean's Trilogy) and written by Lem Dobbs (The Limey).
Haywire opens Jan. 20, 2012. [source: The Film Stage]
Take a look at the photo below (click to enlarge) and don't forget to give us your thoughts in the comments section.