Movie Posters
First Roman Coppola's A GLIMPSE INSIDE THE MIND OF CHARLES SWAN III Teaser Posters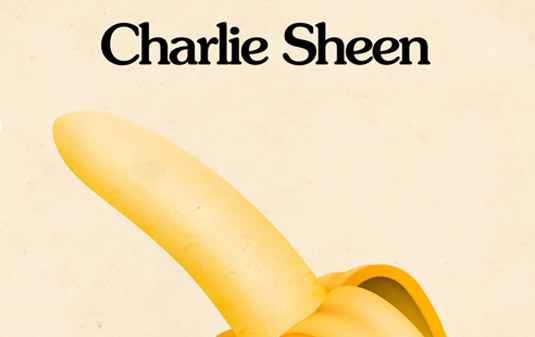 Charlie Sheen
or Charlie Swan? Who cares when this already looks hilarious! Today, we have five great teaser posters for the upcoming
A Glimpse Inside the Mind of Charles Swan III
movie which opens this February! I'm sure you're going to love Sheen as banana,
Bill Murray
as red hot lips,
Aubrey Plaza
as sexy lipstick,
Patricia Arquette
as cherry and
Jason Schwartzman
as… a cucumber? What the hell!? Well, that's what I call the perfect tease! You already know that
Roman Coppola
stands behind this comedy drama which, beside the above mentioned cast also stars
Mary Elizabeth Winstead
and
Katheryn Winnick
. The movie centers on Sheen's character – Charles Swan III, an eccentric and highly successful graphic designer whose fame, money and devilish charm have provided him with a seemingly perfect life. Things go wrong when his true love Ivana, suddenly ends their relationship, but that's exactly when the fun-part of the movie starts! Because when your heart is broken – you can survive only with a little help of your loyal intimates, right? (Un)fortunately for Charles, those intimates are Kirby (Schwartzman), Saul (Murray), and his sister, Izzy (Arquette), who will follow Sheen through a delirious journey of self-reflection to try and come to terms with a life without Ivana. A Glimpse Inside the Mind of Charles Swan III is already being described as a unique relationship film told in a playful and unconventional style, and as we previously mentioned the movie is set to open on February 8th, 2012! So, what do you think?