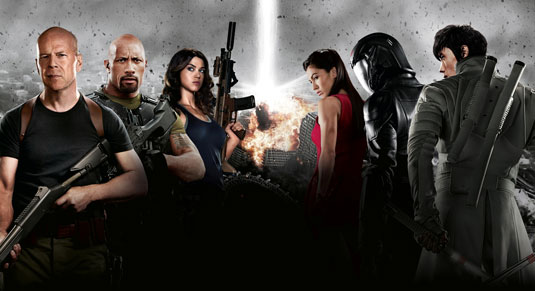 Here we have a short clip featuring Bruce Willis and Dwayne Johnson (aka "The Rock") chatting over a garage, followed by a few seconds of crazy, fast, adrenaline-packed action. Second and third feature ninjas. Lots of 'em. Check out the first three clips from Jon Chu's G.I. Joe: Retaliation (thanks to BeyondHollywood for the second two): I'm not a big fan of the G.I. franchise (but I am of The Rock – hell I'll be watching this just because of him, heheh), but I really do hope all the action isn't already packed up in the trailers, like it happens so often in ACTION flicks lately… Synopsis:
In this sequel, the G.I. Joes are not only fighting their mortal enemy Cobra; they are forced to contend with threats from within the government that jeopardize their very existence.
Also starring Channing Tatum, Adrianne Palicki, Ray Stevenson, Ray Park, Joseph Mazzello, Arnold Vosloo, Elodie Yung, Walton Goggins, Jonathan Pryce, Byung-hun Lee, RZA, D.J. Cotrona and Matt Gerald, G.I. Joe: Retaliation hits the big screens this March 29th, 2013.