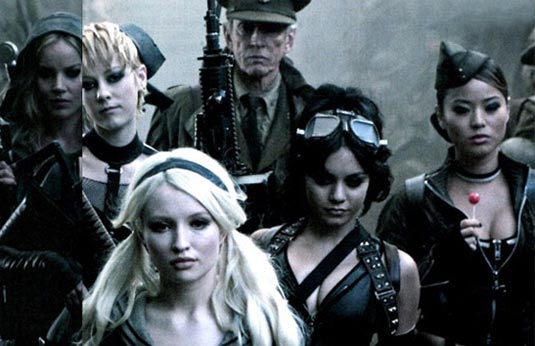 The new issue of Entertainment Weekly has the first photo from
Zack Snyder
's
Sucker Punch
. In the scanned photo,
Emily Browning, Vanessa Hudgens, Abbie Cornish, Jena Malone
and
Jamie Chung
are seen posing alongside actor
Scott Glenn
. Set in the 1950s, it tells the story of Baby Doll (Browning), who is trying to hide from the pain caused by her evil stepfather and lobotomy. She ends up in mental institution and while there she starts to imagine alternative reality. She plans to escape from that imaginary world but to do that she needs to steal five objects before she is caught by a vile man. She has 5 days to escape before being lobotomized. In order to cope with the situation, she enters the hyper-real world of her imagination, and the lines between reality and dream begin to blur. She is joined with friends who are inmates from the institution. Lessons learned in the said fantasy world could help the girls escape their real-world fate. This action fantasy movie will fill Warner Bros.' panel at San Diego Comic Con 2010 on the Third Day, Saturday, July 24.
Sucker Punch
comes to theaters and IMAX on March 25th, 2011. What do you think of the first photo?
Sucker Punch Movie Photo