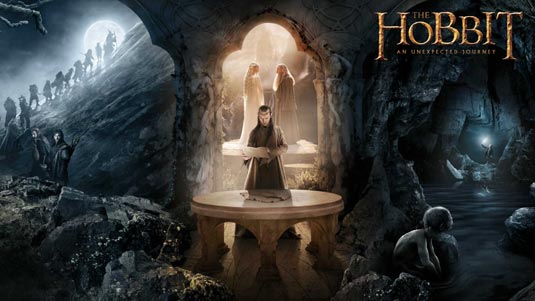 All of you Tolkien fans know that Bilbo Baggins is the focus of the journey through Middle Earth known as
The Hobbit
, but in
Peter Jackson
's trilogy, Bilbo's nephew Frodo won't be absent either. We've known for a while now that
Elijah Wood
would be reprising his role as Frodo Baggins in the films, and he even popped up in one of the many video blogs Jackson has been posting from the set. But now (thanks to a Brazilian site) we've got our first official look at Frodo back in action, as well as four other stills from the film. Check them out below:
Don't get too excited about this Frodo sighting, though – rumor has it he will appear in a frame story just to kick things off and link the actions of The Hobbit to The Lord of the Rings. But then again, now that there are three Hobbit movies to come, maybe they have managed to find more room for Frodo. The Hobbit: An Unexpected Journey is set for release on December 14th, 2012 and believe it or not, has managed to snag that entire release date for itself. You don't mess with Peter Jackson, eh? The film also stars
Martin Freeman
,
Hugo Weaving
,
Ian McKellen
,
Cate Blanchett
,
Evangeline Lilly
,
Orlando Bloom
,
Richard Armitage
,
Christopher Lee
,
Andy Serkis
,
Ian Holm
,
Benedict Cumberbatch
and others. Are you excited for The Hobbit as much as you were for The Lord of the Rings?