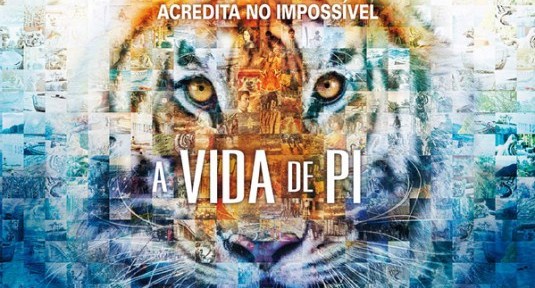 A Vida de Pi, or simply – Life of Pi, because we're here to share the latest international poster for Ang Lee's upcoming movie. Magical one, for sure. Thanks to 20th Century Fox Portugal, we have another great mosaic artwork quad poster for the whole thing, so don't miss it!
Lee's movie is already set to open the New York Film Festival this week, so we better hurry up! As you already know, the film is an adaptation of Yann Martel's novel of the same name, and stars Suraj Sharma, Irffan Khan, Gerard Depardieu, Adil Hussain and Rafe Spall.
This November, director Lee and his team will take us on an epic journey of adventure and discovery. The movie follows a young man who survives a tragic disaster at sea and, while marooned on a lifeboat, he forms an amazing and unexpected connection with the ship's only other survivor – a fearsome Bengal tiger.
Life of Pi opens on November 21st, 2012.
I'm already in love with these gorgeous eyes of the tiger, what about you?