Movie Photos
Great New Hi-Res "The Men Who Stare at Goats" Images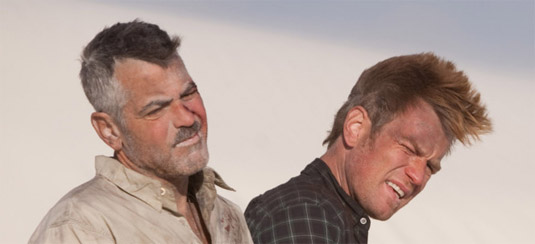 You've probably seen great  The Men Who Stare at Goats trailer starring George Clooney, Ewan McGregor, Kevin Spacey, Jeff Bridges, Rebecca Mader and Terry Serpico.
But today we have some interesting Hi-Res photos from the movie. Check them out below.
Based on the 2004 book by the Guardian columnist Jon Ronson, "Men Who Stare at Goats" the movie is set in Iraq and centers on Bob Wilton (Ewan McGregor), a desperate reporter who stumbles upon the story of a lifetime when he meets Lyn Cassady (George Clooney), who claims tobe part of a former secret Army's First Earth Battalion, a unit that employs paranormal powers in their missions.
The dark comedy is directed by (actor-turned-writer-turned-director) Grant Heslov, who penned "Good Night and Good Luck," from the script written by Peter Straughan ("How to Lose Friends & Alienate People").
The Men Who Stare at Goats premiered at the Venice Film Festival will also be shown at Toronto Film Festival (September 11, 2009) will hit US theaters on November 6th 2009.