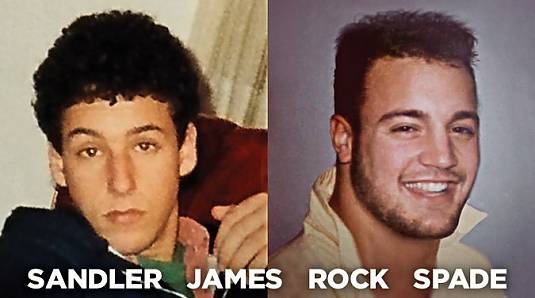 The latest poster for Dennis Dugan's upcoming Grown Ups 2 is here to remind you that Kevin James used to be sexy. Just kidding, they all look like idiots, but I guess that's exactly the thing with this buddy comedy – just because they're a little older, doesn't mean they've grown up, remember? Anyway, beside James, Grown Ups 2 cast includes Adam Sandler, Chris Rock, David Spade, Salma Hayek, Maya Rudolph, Maria Bello and Nick Swardson, and the movie is set to hit theaters on July 12th, 2013. Written by Sandler, Fred Wolf and Tim Herlihy, the sequel to 2010's Grown Ups revolves around Sandler's character, Lenny Feder who has relocated his family back to the small town where he and his friends grew up. And:
…this time around, the grown ups are the ones learning lessons from their kids on a day notoriously full of surprises: the last day of school.
After seeing that first trailer for the whole thing all I can say is – I'm not interested in more updates! But in case you don't share my opinion – stay tuned!