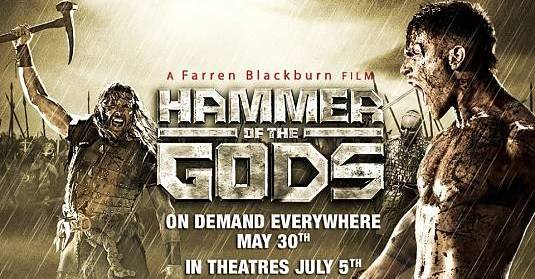 Farren Blackburn's upcoming Hammer of the Gods definitely looks promising! Especially now, when we finally have two great trailers (read: green band & red band) for the whole thing. Let me also add that Charlie Bewley who plays a young Viking warrior named Steinar is simply awesome, and if you ask me – he was the right guy for this pretty intense and violent story. Take a look & let us know what you think! [jwplayer mediaid="150773″] Blackburn directed this action film from a script written by Matthew Read, and as we previously reported – the whole thing is set in Viking Britain in 871 AD, in a world whose only language is violence… [jwplayer mediaid="150774″]
A young Viking warrior, Steinar, is sent by his father the king on a quest to find his estranged brother, who was banished from the kingdom many years before. Steinar's epic journey across terrifyingly hostile territory gradually sees him emerge as the man his father wants him to be – the ruthless and unforgiving successor to his throne.
Beside Charlie Bewley, Hammer of the Gods also stars Elliot Cowan, Clive Standen, Guy Flanagan, and Michael Jibson. The movie is set to hit theaters on July 5th, 2013 (also available on VOD/iTunes on May 30).