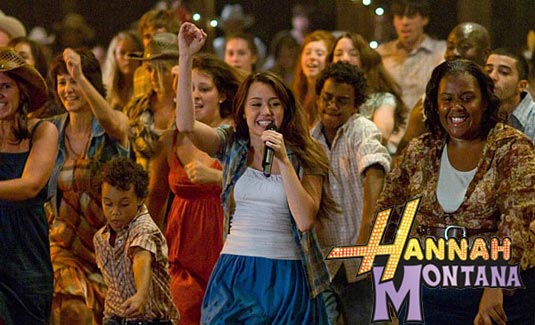 Hannah Montana: The Movie acted as my official introduction to the identity crisis that is Miley Cyrus and her pop-music-powered alter ego. I have two boys, after all. The farthest we've ventured down Disney's empowered-female food chain is Kim Possible (which, for the record, deserves its own live-action film adaptation in the vein of Tomb Raider, yet better). But now, at least, I understand the hoopla surrounding this spunky, cool, and charismatic young performer. Her overly produced musical anthems aren't my cup of tea, but I get why so many people line up to drink what she's serving…read more [Worstpreviews]
Hannah Montana goes more than a little bit country for her first (nonconcert) big-screen outing, and the resulting Nashville/bubble gum fusion doesn't necessarily represent the best of both worlds.
Not that the tweens will mind the twang. "Hannah Montana: The Movie" is a can't-miss proposition for Disney, which is smartly striking while the iron is still reasonably hot.
It likely won't match last year's $31.1 million opening registered by Miley's all-singing "Best of Both Worlds," but Cyrus' enthusiastic fan base should ensure brisk spring break business…read more [THR]
Hannah Montana: The Movie Premiere:
Even if you live in a cave or loathe little girls, you've probably heard of Hannah Montana. The pop-star alter ego of regular gal Miley Stewart (Miley Cyrus) and the title character of the wildly popular Disney Channel series sashays back to the bigscreen without missing a beat in "Hannah Montana: The Movie." Widely accessible even to neophytes, the G-rated pic is innocuous fare that should score big with tween girls, as well as those parents seeking age-appropriate role models for their daughters.
The pic's theatrical release — sandwiched between Cyrus' sold-out 2008 tour and 3-D concert film, and the upcoming publication of her memoirs (at age 16) — seems poised to maximize existing Miley-mania. (Her stardom has long since eclipsed that of her dad, country star Billy Ray Cyrus). Propelled by the younger Cyrus' charisma and undeniable talent, the Peter Chelsom-helmed film looks to be another smart move in a career thoughtfully shepherded by her father…read more [Variety]
Who's Hannah Montana? For those living under a rock, she's only a world-famous stage persona of a singer known for her infectious bubble-gum-infused dance music favored (mostly) by female tweens and their little sisters.
If you're Cyrus's age (16), you're probably already too old for the TV show, and your musical tastes have likely evolved to embrace something a little more grown-up. Like, say, the Jonas Brothers…read more [The Washington Post]
Along the way, Miley has discovered some of the simple joys in life, riding her horse, having fun with a friend, and has developed an attraction to a boy she knew from her childhood. Grandma has been at work setting Miley's dad up as well, but when Miley has to decide whether she'll be Hannah Montana to save the land from the developer, or be Miley and finally go on a date with the boy of her dreams, she tries to have the best of both worlds and the result is a disaster that not only jeopardizes her relationship, but her father's new-found romance as well…read more [BookSpotCentral]
Big shout outs to Vanessa Williams and Margo Martindale, two veteran actors who bring colour and layers to the party. Also of note, the musicians who jam around the Stewart household are real life performers Rascal Flats and the girl onstage at the local hangout is Cyrus' friend singer songwriter Taylor Swift.
The film features an environmental subplot about a developer planning to build condos in Stewart's farm Tennessee community. And that would be a shame. The cinematography is superb, making the most of sylvan hill country that inspires Stewart / Montana to let her hair down, write songs and learn life lessons…read more [Monsters and Critics]
The predictable (though beautifully photographed) film from director Peter Chelsom ("Serendipity," "Shall We Dance?") finds Miley's dad, Robby Ray (Cyrus' real-life father, Billy Ray), taking her home against her will to reconnect with her roots. As in the "Hannah Montana" 3-D concert film from last year, Miley and Billy Ray Cyrus have an obvious, comfortable bond on camera; the moments they share seem sincere and provide some much-needed substance amid the perkiness and pratfalls…read more [Miami Herald]
Hannah Montana: The Movie trailer: