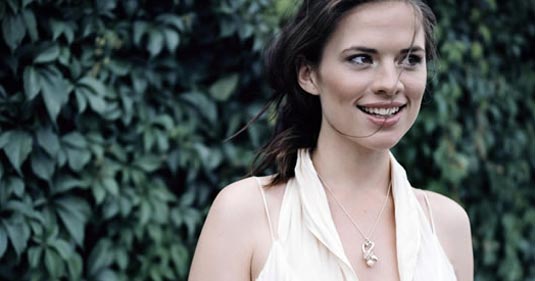 More casting news for today! Lovely Hayley Atwell, (the upcoming Captain America: The First Avenger star) has joined the cast of I, Anna, which is a debut feature from writer/director Barnaby Southcombe.
And while we're still here, at the beginning, let's mention the rest of the cast – Charlotte Rampling, Gabriel Byrne, Eddie Marsan, Jodhi May, Bill Milner and Honor Blackman.
I, Anna is project based on Elsa Lewin's novel of the same name. At this moment we do know that Rampling stars as the titular Anna and according to the latest reports, Hayley Atwell will play Emmy, the daughter of Rampling's eponymous character Anna.
Here's the official I, Anna synopsis: "A man is found bludgeoned to death in a London apartment block. DCI Bernie Kominski, an insomniac dazed by the prospect of divorce, is first on the scene, but distracted from his duties by a brief encounter with a striking and enigmatic woman.
Going through the motions of the case, Bernie's thoughts return to the woman, Anna Welles, whom he tracks down and follows. When they finally meet at a singles' party, the mutual attraction is instant, though Anna has no recollection of Bernie, or of the night they first met. As Bernie's professional judgment battles with his desire for intimacy and love, the mystery deep within Anna's mind finally unravels, revealing a truth too painful to bear."
Pic is produced by Felix Vossen and Christopher Simon (The Proposition), Michael Eckelt (Eyes Wide Open) and Ilann Girard (Lebanon). Jo Burn (Green Zone) is co-producing the pic, which wrapped this weekend following a five-week shoot in and around London and one week in Hamburg.
Let us know what you think about the I, Anna cast and as usual, stay tuned!