Well, one thing is for sure, now we know why an upcoming
Seth Gordon
's comedy
Horrible Bosses
has this kind of title!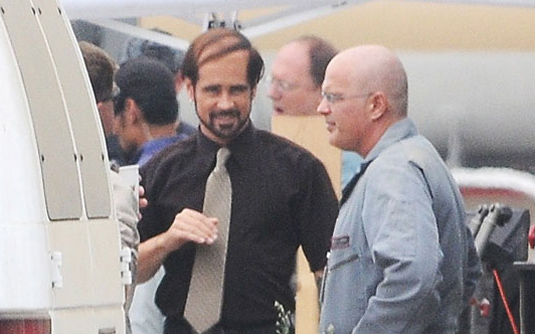 Colin Farrell, Horrible Bosses
Colin Farrell
, one of the tyrant bosses, definitely looks horrible! But this is a completely different type of boss, something we thought could never happen with this actor, and, although this new Colin Farrell shocked (and scared a little bit) us, we like him even more now! While you're "enjoying" these "lovely" pics, let us remind you that this project is already described as "a dark, in-the-workplace comedy" or if you prefer, the movie is based around three friends who conspire to kill their bosses. Frustrated by their jobs are
Jason Sudeikis, Jason Bateman
and
Charlie Day
. Lovely (but let's wait to see her pics first!)
Jennifer Aniston
and Colin Farrell are two of the offending office tyrants, while
Jamie Foxx
is a colorfully named scam artist who dishes killing advice to the three regular guys. And that's not the end of this great cast, because we also have
Kevin Spacey
, who will have an honor to play the worst of the bosses, or, as they describe him "a master manipulator with an attractive wife." Seth Gordon is directing from the script of
Jonathan Goldstein
and
John Francis Daley
. Brett Ratner and Jay Stern are producing.
Horrible Bosses
is currently slated to hit theaters on July 29, 2011. Don't miss another "horrible" look guys, stay tuned!