Movie News
Ridley Scott and Leonardo DiCaprio to Reunite for Wolf of Wall Street?
Ridley Scott and Leonardo DiCaprio reunited again for The Wolf of Wall Street?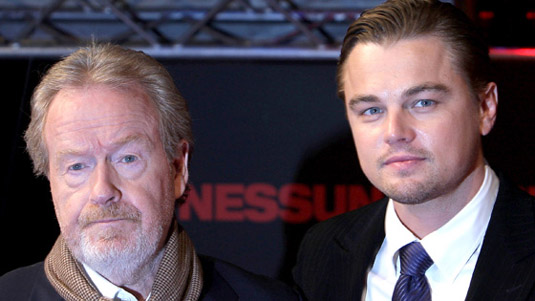 Yes, we finally have more details about this collaboration! The "Robin Hood" director is in early negotiations to work on this project, adaptation of Jordan Belfort's memoir of the same name, that was originally offered to Martin Scorsese. DiCaprio and Scorsese started to make the film two years ago but moved on to Shutter Island after being stalled in a tug of war between Warner Bros and Paramount. So, if you're, by any chance, a fan of financial-disaster theme on a big screen, then check the rest of this report! Ridley Scott, who worked with DiCaprio on Body Of Lies, reportedly "loves" the screenplay, which has been penned by "The Sopranos" writer Terry Winter. Here's a description: "Belfort, who founded one of the first and largest chop shop brokerage firms in 1987, was banned from the securities business for life by 1994, and later went to jail for fraud and money-laundering, delivers a memoir that reads like fiction. It covers his decade of success with straightforward accounts of how he worked with managers of obscure companies to acquire large amounts of stock with minimal public disclosure, then pumped up the price and sold it, so he and the insiders made large profits while public investors usually lost. Profits were laundered through purchase of legitimate businesses and cash deposits in Swiss banks. There is only brief mention of Belfort's life before Wall Street or events since 1997. The book's main topic is the vast amount of sex, drugs and risky physical behavior Belfort managed to survive. As might be expected in the autobiography of a veteran con man with movie rights already sold, it's hard to know how much to believe." So, is this something that will actually happen, or is it just another "nice plan"? We do know that both of these well-known names are pretty busy nowadays. And, for all DiCaprio's fans out there little reminder: he will next be seen on screen in Inception, which hits theaters on July 16, 2010. We'll keep you updated, stay tuned!