Movie News
Ian McKellen and Judi Dench to Star in Matthew Butler's Zombie Romp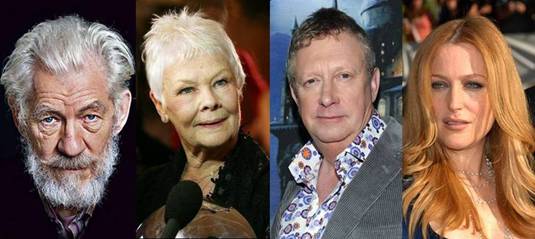 Good news for zombies-in-corset funs! Judi Dench is going to join Ian McKellen (who narrated and made a cameo appearance in the short), Gillian Anderson (The X-Files star), and Mark Williams (who can be seen in the Harry Potter movies as Arthur Weasley) for a new period zombie comedy named The Curse of the Buxom Strumpet, which is a full-length feature extension of E'Gad, Zombies!, a short that appeared in 2010 Cannes Film Festival.
The Curse of the Buxom Strumpet will be helmed by Matthew Butler, who co-wrote the first script with Tori Hart. The £2m film is set to shoot in Scotland later this year for the 18th century zombie romp through the fictional town of Upper Trollop. McKellen has, in fact, shot his scenes for the film and is now busy working in New Zealand on The Hobbit 3D.
As for Dame Judi, The Oscar-winning actress will play a character called Mrs Halfpint. She recently has a brief cameo role in new Pirates of the Caribbean: On Stranger Tides and is going to do the next Bond in November.
The Curse of the Buxom Strumpet should follow, if all goes to plan, sometime in 2012.
Check out a trailer for the 20-min short below the plotline for E'gads, Zombies!
… [William Filthe] was the younger brother of the family and therefore his chances of actually achieving anything in his life were slim to middling at best. Not that this mattered to him of course, for he was in love with the beautiful but slightly terrifying Vanity Banks, and had decided that as soon as she stopped throwing vegetables at him, they should marry. The reason Vanity threw vegetables at William was because he was poor. She was rich and everybody loved her, so why on earth would she marry a poet who spent his time at her window spouting his ludicrous poetry? So, she decided to marry Richard Filthe, William's affluent elder brother and all-round bad egg. So William, devastated, decides to leave England and live as a monk, turning his back on life and love. On the morning of his departure however, he finds his household deserted and one of his servants, Sandwich, half eaten. Racing through the town to save the woman he loves, he discovers that Upper Trollop has been infected by an illness, turning all it's inhabitants into crazed creatures and making them all rather … bitey …
[youtube]http://www.youtube.com/watch?v=nTNfihWn_gM[/youtube]
E gad, Zombies! – Official Teaser Trailer