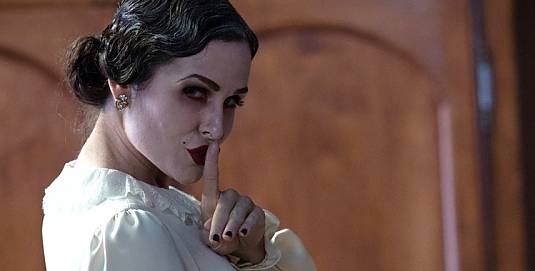 Creepy first images from the upcoming Insidious Chapter 2 have arrived and as usual – you can check them all out in the rest of this report. Those lucky bastards who had a chance to watch the first trailer for James Wan's movie say it's great, but until that trailer actually arrives – head inside to see the first photos & let us know what you think!
James Wan directed the sequel to 2011 Insidious from a script written by Leigh Whannell, and as we previously reported, the movie will once again revolve around:
…the haunted Lambert family as they seek to uncover the mysterious childhood secret that has left them dangerously connected to the spirit world.
Or, as director Wan previously explained – the whole thing smells like the first movie, but the story is different:
It's a direct continuation from the end of the first film, so it's the same characters, same actors coming back. But where the first movie plays like a classic haunted house film, the second one plays more like a domestic thriller with supernatural elements to it. You're not quite sure if the lead character is who he seems to be. That kind of stuff. That's what makes it a lot of fun.
The original cast of Patrick Wilson, Rose Byrne, Lin Shaye, Barbara Hershey and Ty Simpkins is back in business, as well as Jocelin Donahue and Lindsay Seim. Insidious Chapter 2 will be released on September 13th, 2013. Click on all these images to take a better look & stay tuned for more creepy updates!