Movie Posters
RED 2 Reveals 7 New (South Korean) Character Posters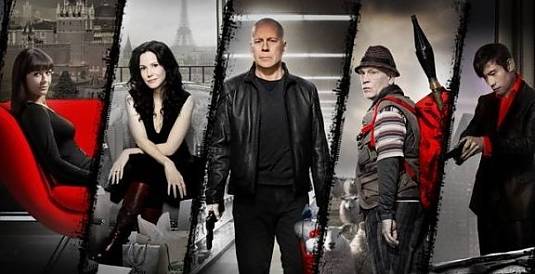 Not everything is red in the upcoming
Red 2
! Seven new international (read: South Korean) character posters have arrived, and as you're about to see in the rest of this report – they're all black & red, with some pretty cool taglines. Willis is
so strong
, Malkovich is
so psycho
, Zeta-Jones is
so hot
, Mirren is
so cool
, Byung-hun is
so simple
, Parker is
so excited
and Hopkins is… well,
so crazy
! Director
Dean Parisot
stands behind the sequel to the 2010
Red
, which revolves around retired black-ops CIA agent Frank Moses who reunites his unlikely team of elite operatives for a global quest to track down a missing portable nuclear device.
And you already know the rest of the story – whenever we have
the next-generation
weapon, we also have some ruthless terrorists, assassins and power-crazed greedy government officials. So, the above mentioned retired team will once again have to try to save the world, only this time – they travel to Paris, London and Moscow, and the only thing they have is their cunning wits, their old-school skills, and each other to rely.
Starring
Bruce Willis
,
John Malkovich
,
Mary-Louise Parker
,
Anthony Hopkins
,
Helen Mirren
,
Catherine Zeta-Jones
,
Byung Hun Lee
,
Brian Cox
and
Neal McDonough
,
Red 2
is set to hit theaters on July 19th, 2013.
Make sure you click on all these posters to take a better look, and in case you've missed our previous reports – the first
trailer
and more
character posters
are waiting for you right here on our site! Stay tuned for more updates!