Movie Posters
THE MORTAL INSTRUMENTS: CITY OF BONES Character Posters: Alec & Isabelle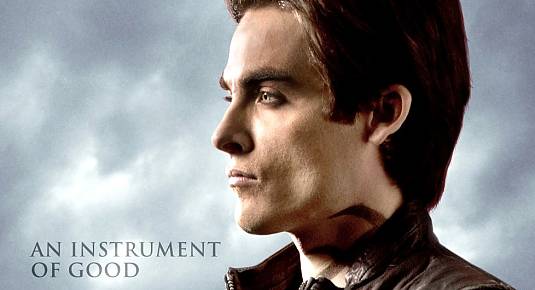 The Mortal Instruments: City of Bones is set to hit theaters this August, hope you're ready for another fantasy-adventure? Good, 'cause we're pretty excited about this project, too, mostly because a pretty cool cast is on board for the whole thing. Time for more character posters, head inside to check out the Lightwood family: Kevin Zegers aka Alec and his skilled sister Isabelle aka Jemima West. First, a little reminder: we already shared Clary Fray and Jace Wayland character posters, you also had a chance to check out Simon Lewis, then Valentine Morgenstern, and Magnus Bane. In case you've missed the trailer and featurette, you have nothing to worry about (all opens in new tab). Now, it's time to take a better look at Alec Lightwood, portrayed by Kevin Zegers, a Shadowhunter living in the New York Institute with his siblings and the oldest child of the Lightwood family. Mostly soft spoken and serious, Alec is extremely caring of the ones he loves, and is willing to do anything to protect them. Click on the poster to enlarge:
His sister, Isabelle Izzy Lightwood, portrayed by Jemima West, is the middle child in the Lightwood family – a very beautiful but rebellious lady who cares for Jace and Alec, and is fiercely protective of both of them. To take a better look at this lovely girl – click on the poster below:
Director Harald Zwart stands behind the adaptation of the first book in The Mortal Instruments series by Cassandra Clare, which also stars Lily Collins, Jamie Campbell Bower, Robert Sheehan, Lena Headey, Kevin Durand, Aidan Turner, Godfrey Gao, Jared Harris and Jonathan Rhys Meyers.
A seemingly ordinary teenager, Clary Fray, discovers she is the descendant of a line of Shadowhunters, a secret cadre of young half-angel warriors locked in an ancient battle to protect our world from demons. After the disappearance of her mother, she joins forces with a group of Shadowhunters, who introduce her to a dangerous alternate New York called Downworld, filled with demons, warlocks, vampires, werewolves and other deadly creatures.
The Mortal Instruments: City Of Bones is set to hit theaters on August 21st, 2013.