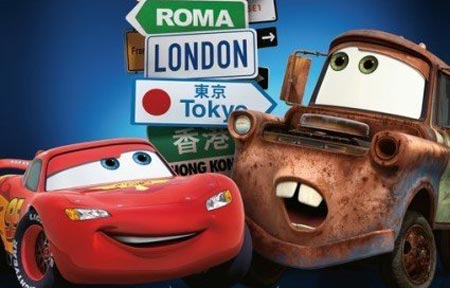 Pixar has sent us over a new international poster for the highly-anticipated sequel
Cars 2
, which will be released in 2D and 3D theaters nationwide on June 24, 2011.
Synopsis:
Star race-car Lightning McQueen (voice of
Owen Wilson
) and the incomparable tow truck Mater (voice of
Larry
the Cable Guy
) take their friendship to exciting new places in Cars 2 when they head overseas to compete in the first-ever World Grand Prix to determine the world's fastest car. But the road to the championship is filled with plenty of potholes, detours and hilarious surprises when Mater gets caught up in an intriguing adventure of his own: international espionage. Torn between assisting Lightning McQueen in the high-profile race and towing the line in a top-secret spy mission, Mater's action-packed journey leads him on an explosive chase through the streets of Japan and Europe, trailed by his friends and watched by the whole world. Adding to the fast-paced fun is a colorful new all-car cast that includes secret agents, menacing villains and international racing competitors.
John Lasseter
returns to the driver's seat to direct this follow-up to his 2006 Golden Globe®-winning Cars. Cars 2 is co-directed by
Brad Lewis
, producer of the Oscar®-winning film Ratatouille, and produced by visual effects industry veteran
Denise Ream
(associate producer, Up; visual effects executive producer, Star Wars: Episode III – Revenge of the Sith).
Cars 2
will star the vocal talents of
Owen Wilson, Bonnie Hunt, John Ratzenberger, Larry the Cable Guy, Tony Shalhoub, Cheech Marin,
and many more.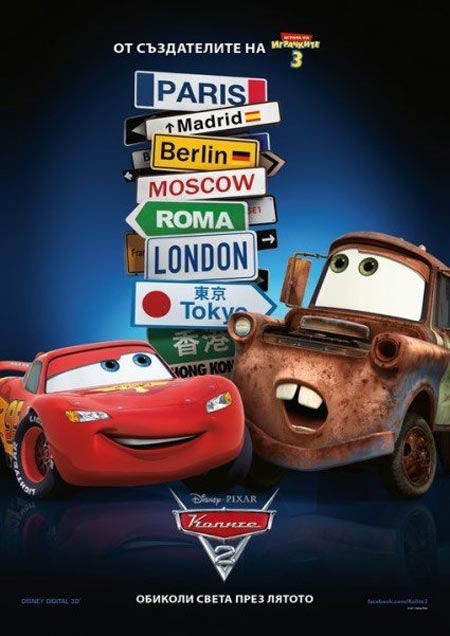 Russian Cars 2 Poster