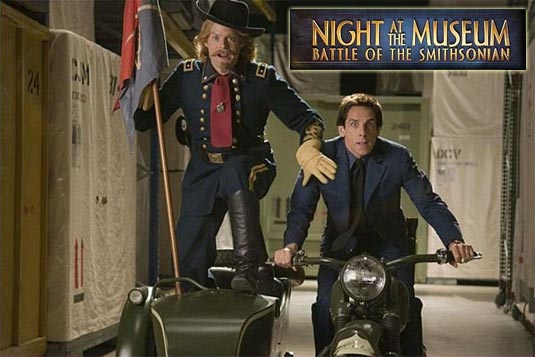 The new international trailer for Ben Stiller comedy "Night At The Museum: Battle of the Smithsonian" has gone up online featuring some never-before-seen clips.

In "Night at the Museum 2: Battle of the Smithsonian", Ben Stiller returns as the bumbling night security guard Larry Daley. When the Museum of Natural History is closed for upgrades and renovations, the museum pieces are moved into federal storage at the Smithsonian Institution, the house of more than 136 million items in its collections, and Stiller is in for more trouble.

The Shawn Levy-directed sequel stars Ben Stiller, Amy Adams, Hank Azaria, Robin Williams, Ricky Gervais, Owen Wilson, Ed Helms, Christopher Guest, Jon Bernthal, Bill Hader, Alain Chabat, Robert Ben Garant and Thomas Lennon. "Night at the Museum 2" is scheduled to hit theaters on May 22nd, 2009.