Movie Photos
THE INTERNSHIP: 20 Pics, New Clips, Featurettes & Character Posters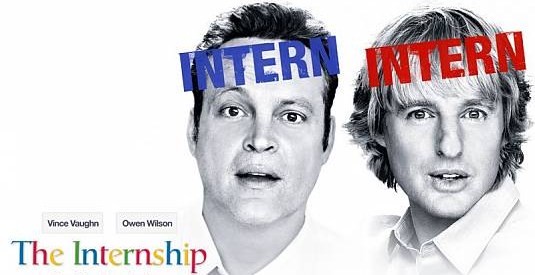 Hey guys, Shawn Levy's latest comedy The Internship opens in five days, and as you already see – it's time for a huuuuge update! We have two new clips, some pretty cool featurettes, character posters and 20 new pics to share today, hope you'll like it. They're desperate to convince us that the whole thing is worth our attention, but I must admit I'm still not impressed… [jwplayer mediaid="153830″] Anyway, Levy directed the pic from a script written by Vince Vaughn, which revolves around two salesmen, (played by Vaughn and Owen Wilson), whose careers have been torpedoed by the digital world. [jwplayer mediaid="153831″] Soon, Billy and Nick find themselves competing with a younger and much more tech savvy crowd for a job at the mega digital giant. Google! [jwplayer mediaid="153832″] In other words:
Trying to prove they are not obsolete, thet defy the odds by talking their way into a coveted internship at Google, along with a battalion of brillian college students. But, gaining entrance to this utopia is only half the battle. Now they must compete with a group pf the nation's most elite, tech-savvy geniuses to prove that necessity really is the mother of re-invention.
[jwplayer mediaid="153833″] Beside Vaughn and Wilson, The Internship cast also includes Rose Byrne, Max Minghella, John Goodman, Dylan O'Brien, JoAnna Garcia, Eric Andre, Josh Brener, Tiya Sircar, Tobit Raphael and Will Ferrell. Click on all these images and posters to take a better look & don't forget – the movie opens on June 7th, 2013.