Movie News
James Cameron's "Avatar" to be Released in IMAX 3D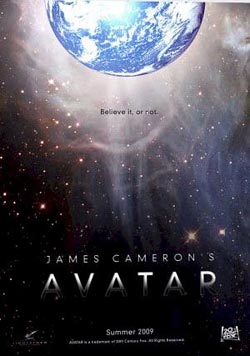 IMAX Corporation and Twentieth Century Fox today announced that they have reached agreement on material terms to release the highly anticipated 3D motion picture Avatar in IMAX(R)3D simultaneously with the motion picture's premiere in conventional 3D theatres on December 18, 2009. Avatar is directed and written by Academy Award Winner James Cameron and stars Sam Worthington, Zoe Saldana, Stephen Lang, Michelle Rodriguez and Sigourney Weaver. Cameron will also produce with his Lightstorm Entertainment partner, Jon Landau. Avatar will be digitally re-mastered into the unparalleled image and sound quality of The IMAX Experience(R).
"Our goal with Avatar is to revolutionize live-action 3D moviemaking, and I have no doubt that it will look and sound incredible in IMAX 3D," said director James Cameron. "The larger field of view and powerful surround sound of an IMAX(R) theatre will completely immerse the audience in a way that cannot be experienced anywhere else."
"We are delighted to be releasing Avatar in all available theatrical formats, and by including the premium IMAX 3D format, we can give consumers the entire spectrum of choice at the box office," said Bruce Snyder, President, Domestic Distribution, Twentieth Century Fox. "The IMAX theatre network is increasingly becoming an important part of our distribution strategy, as it continues to expand with its new digital projection system."
"Avatar is one of the most anticipated movies of 2009 and it is a powerful addition to our film slate," said IMAX Co-CEO's Richard L. Gelfond and Bradley J. Wechsler. "We are particularly pleased with Twentieth Century Fox's increasing interest in the IMAX theatre network, which is largely fueled by the rollout of our digital projection systems and IMAX's track record of strong box office performance."
"James Cameron is a genius filmmaker. His vision and 3D expertise make Avatar a natural fit for IMAX and we believe it will resonate with our audiences as well as the millions of James Cameron fans across the globe," added Greg Foster, Chairman and President of IMAX Filmed Entertainment. "Every aspect of this film was meticulously designed for 3D, so when audiences experience this revolutionary film in an IMAX 3D theatre, they will feel as if they are actually IN the movie.
Avatar is the story of an ex-Marine who finds himself thrust into hostilities on an alien planet filled with exotic life forms. As an Avatar, a human mind in an alien body, he finds himself torn between two worlds, in a desperate fight for his own survival and that of the indigenous people. More than ten years in the making, Avatar marks Cameron's return to feature directing since helming 1997's Titanic, the highest grossing film of all time and winner of eleven Oscars(R) including Best Picture. WETA Digital, renowned for its work in The Lord of the Rings Trilogy and King Kong, will incorporate new intuitive CGI technologies to transform the environments and characters into photorealistic 3D imagery that will transport the audience into the alien world rich with imaginative vistas, creatures and characters. Watch the 15-minute show to hear Cameron talk about being a janitor, why he doesn't have a star on the Hollywood Walk of Fame and some of the challenges with "Avatar" as compared to "Terminator 2." [source: IMAX Corporation]