Movie News
Jane Lynch Set as Head Nun for The Three Stooges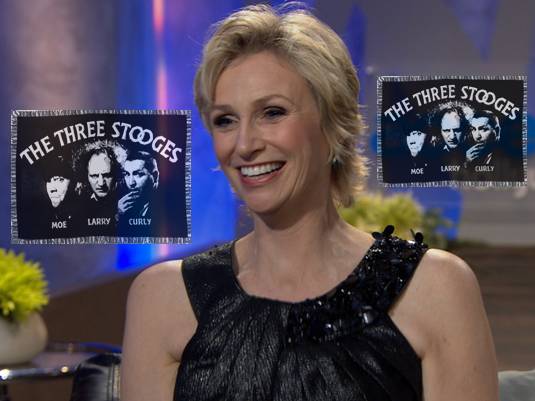 For the Farrelly brothers the casting discussion will end, respectively. After locking up roles of the slapstick trio Curly, Larry and Moe, it was announced that Jane Lynch has just signed to play the head nun in a long-gestating The Three Stooges feature.
As you know Will Sasso is set as Curly (girly), Will & Grace's Sean Hayes signed as Larry, and Chris Diamantopoulos is in final negotiations to appear as Moe Howard.
Lynch will, reportedly, play Mother Superior that appears in the opening episode of the film. Obviously, the first episode includes the time Stooges spent in the orphanage, where they are, of course, made all sorts of hilarious adventures. If you recall, there were rumors floating about Cher would be expected to play this role, but it was decided that Glee's Jane Lynch should take the role. When it comes to female roles, Sofia Vergara is in talks for the lead female role, but details concerning her character are currently unknown.
Besides everybody's-favorite-Machiavellian-cheerleading-coach, The Curb Your Enthusiasm star Larry David is also in talks with Farrelly brothers about playing a supporting role.
Shooting reportedly begins next month.
The knuckleheaded team appeared in precisely 220 short films. Their continued reputation worldwide has proven to even the most doubtful critics that their films are funny and though they never achieved widespread critical acclaim, they achieved exactly what they had always intended to do: they made people laugh (Steve Allen).
Check out The Best of the Three Stooges and find us on Facebook.
[youtube]http://www.youtube.com/watch?v=XfGWPpPy0uw[/youtube]
The Best of the Three Stooges