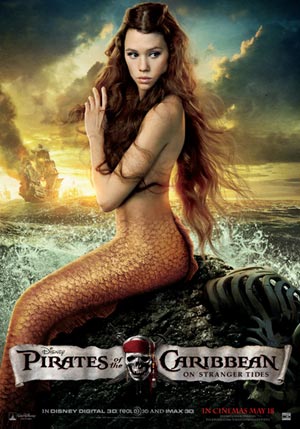 Here's the new character poster for the upcoming , Pirates of the Caribbean: On Stranger Tides which features Astrid Berges-Frisbey as the mermaid Syrena.
Syrena Character Description: A beautiful, enigmatic mermaid who swims against the tide of her more lethally-minded sisters of the sea. Mystery surrounds the mermaid Syrena, even down to her true name, for "Syrena" is only what she's called by missionary Philip Swift during her captivity by Blackbeard. After her fellow mermaids attack Blackbeard's crew at Whitecap Bay, Syrena and Philip begin to recognize a quality in each other that draws them together, allowing them to become allies against a common enemy in Blackbeard. Each discover more of their true beings, but risk their lives when they listen to the sounds of their hearts.
The fourth installment of the movie is directed by Rob Marshall and stars Johnny Depp, Ian McShane, Penelope Cruz, Geoffrey Rush, Kevin McNally, Astrid Berges-Frisbey, Sam Claflin, Stephen Graham, Yuki Matsuzaki and Gemma Ward.
Written by Terry Rossio and Ted Elliot, Pirates 4 is loosely based on the novel On Stranger Tides by Tim Powers.
If you haven't seen Pirates of the Caribbean 4 trailer, check it out now!
Pirates of the Caribbean 4: On Stranger Tides comes to theaters May 20th, 2011.