Movie News
Jennifer Lawrence and Hailee Steinfeld Up for Lead in The Hunger Games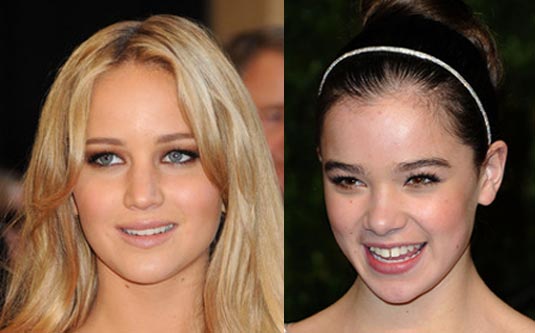 So, what do we know about the upcoming film adaptation of Suzanne Collins' book The Hunger Games? Director Gary Ross is on board, who previously explained us that Lionsgate "wasn't pressuring him to cast a movie star in the role and that the actress had to bring a "deep and fierce" truth to the role."
So, guess what – now we have two of this year's Academy Award nominees, Hailee Steinfeld (True Grit) and Jennifer Lawrence (Winter's Bone) in the running for the lead role of Katniss!
According to guys from Lainey Gossip, Lawrence is the frontrunner. Here's what they say: "…sources confirmed to me exclusively that Lawrence read for it and they loved her. So much. Like no one else they've seen has even come close to what she delivered.
The way it was described to me: 'Jennifer really went for it and she blew them away.' I'm told a deal is being hammered out right now. And they're almost there. Some details still need to be finalized, and anything can happen where negotiations are concerned, but they're close. Lionsgate apparently really wants her."
Consider this as a rumor at this moment, since nothing has been confirmed yet. But, I have doubts about this update, I mean – Lawrence? She's great, of course, but Katniss is a teenager, and Lawrence is 20. On the other hand, Steinfield, at her 14, is closer to the actual age-range of the character, and it would be great to see this young lady in an adaptation like this.
Here's a description: "In a not-too-distant future, the United States of America has collapsed, weakened by drought, fire, famine, and war, to be replaced by Panem, a country divided into the Capitol and 12 districts. Each year, two young representatives from each district are selected by lottery to participate in The Hunger Games.
Part entertainment, part brutal intimidation of the subjugated districts, the televised games are broadcasted throughout Panem as the 24 participants are forced to eliminate their competitors, literally, with all citizens required to watch. When 16-year-old Katniss' young sister, Prim, is selected as the mining district's female representative, Katniss volunteers to take her place.
She and her male counterpart, Peeta, the son of the town baker who seems to have all the fighting skills of a lump of bread dough, will be pitted against bigger, stronger representatives who have trained for this their whole lives."
The Hunger Games, the first film in a series of three, is set to hit theaters on March 23rd, 2012.