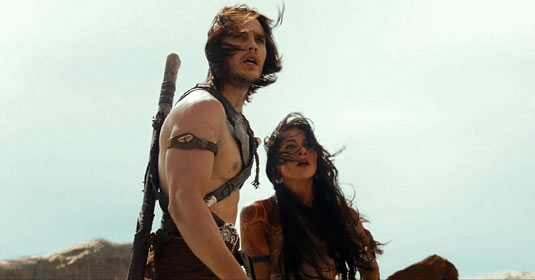 I'm not sure what to think about this movie, so the only reason I'm interested in the upcoming John Carter is the fact it comes from director Andrew Stanton.
I mean, don't get me wrong but I hate that strange mix of action-adventure and the mysterious and exotic planet of Barsoom aka Mars.
However, guys from Walt Disney Pictures have released a Japanese trailer for the whole thing, so make sure you check it out and let us know what you think!
The movie is based on a classic novel by Edgar Rice Burroughs and follows former military captain John Carter, who gets transported to Mars where he becomes reluctantly embroiled in a conflict of epic proportions amongst the inhabitants of the planet, including Tars Tarkas and the captivating Princess Dejah Thoris.
There he rediscovers his humanity and realizes that the survival of Barsoom and its people rests in his hands.
Taylor Kitsch stars as the lead, Willem Dafoe is on board to play Tarkas while Lynn Collins stars as above mentioned princess.
The rest of the cast also includes Samantha Morton, Mark Strong, Ciaran Hinds, Dominic West, James Purefoy, Daryl Sabara, Polly Walker, Bryan Cranston and Thomas Hayden Church.
John Carter comes to 3D/2D theaters and IMAX 3D on March 9th, 2012.
[youtube width="535″ height="350″]http://www.youtube.com/watch?v=yrvlcSH7BP4[/youtube]