Movie News
People's Choice Awards Winners For 2011 Announce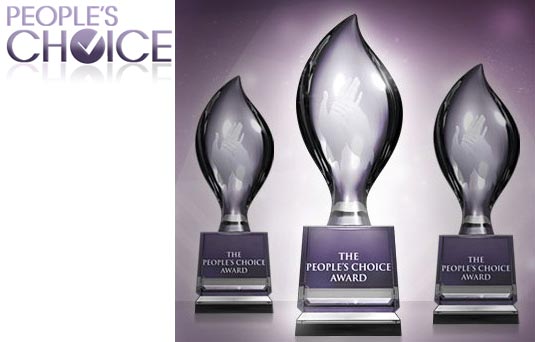 The 37th People's Choice Awards, honoring the best in popular culture for 2010, were held on January 5, 2011 at the Nokia Theatre in Los Angeles, California, and were broadcast live on CBS. The show has been held annually since 1975 and is voted on by the general public. Queen Latifah was the host for the fifth consecutive year.
Voting began in October to see who would receive a coveted People's Choice nod in 2011, and continued until November 9, 2010 – when official nominees were announced in some 40 categories – including Favorite Country Artist, Favorite Action Movie and Favorite TV Comedy.
The winners for the 2011 People's Choice Awards have been revealed and the movie that made it big was the beloved The Twilight Saga: Eclipse starring teenage sweethearts Robert Pattinson and Kristen Stewart. It was the best movie of 2011 amongst the three awards (Drama Movie, Best Movie and Onscreen team) it won. While Kristen Stewart (Favorite Movie Actress ) won over Angelina Jolie, Johnny Depp (Male Movie Star for the fifth time) was one of the People's Choice Awards winners as well. It was the Twilight Saga star first time at the People's Choice Awards and it was clear K-Stew was uncomfortable on stage. Zac Efron won for Favorite Movie Star Under 25, one of new categories along with Favorite Song, Favorite Horror Movie, Favorite TV Doctor.
Efron said
"What an honor it is to be nominated among my contemporaries"
While Eminem dominated the music category – winning four awards for favourite hip-hop star, male musician and song for his track "Love the Way You Lie" with Rihanna.
Take a look at some more 2011 People's Choice Award Movie Category Winners:
Favourite Comedy Star: Adam Sandler
Favourite Comedy Film: Grown Ups
Favourite Action Movie: Iron Man 2
Favourite Action Star: Jackie Chan
Favourite Sci-Fi/Fantasy Show: Fringe
Favourite Family Movie: Toy Story 3
Favourite On Screen Team: The Twilight Saga: Eclipse – Robert Pattinson, Kristen Stewart, Taylor Lautner
Favourite Horror Movie: A Nightmare on Elm Street
Favourite TV Drama: House
Favourite TV Comedy: Glee
Favourite TV Crime Drama: Lie to Me
Favourite New TV Drama: Hawaii Five-O
Favourite New TV Comedy: $#*! My Dad Says
Favourite TV Family: The Simpsons