Movie News
Kevin Smith Buys His Own Red State For Self-Distribution
Kevin Smith plans to release his new horror movie Red State himself. The writer-director announced that he himself would be distributing the film and promptly bought the rights to do so for $20at the film's first public screening at the Eccles Theatre on Sunday night.
From the Eccles stage as part of a long and expletively laced speech after the movie ended during which he championed Harvey Weinstein (co-founder of Miramax Films) as an inspiration and mentor, Smith said
What we need to prove is that anyone can release a movie. Indie film isn't dead, it just grew up. It is just indie film 2.0 now. In indie film 2.0, we don't let them sell our movie, we sell our movie ourselves."
The film will go out under Smith's Smodcast Pictures on October 19th 2011 with no cost marketing, though he said that he will talk to "any smart exhibitor" about potentially showing the movie. The tour will begin March 5 at Radio City Music Hall in New York City and make a stop at Midland Theater in Kansas City one week later.
It's called the Red Sate USA Tour,"
Smith declared.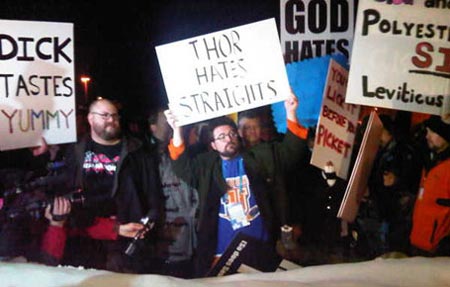 Pastor Fred Phelps' anti-homosexual Westboro Baptist Church carried out its planned protest of the film. Smith has been open about Phelps being the muse for the film's villain, Pastor Abin Cooper (Michael Parks). Smith and his producers, never ones to miss a stunt publicity opportunity, had encouraged supporters to protest any protestors who showed up on Phelps' behalf.
After the screening, Smith also repeated that Red State would be his second-to-last movie, with the forthcoming hockey comedy Hit Somebody his final film. After that he's going to focus on producing and distribution.
Whatever happens with that plan, Smith's distribution strategy for Red State is certainly an interesting one, and it will be interesting to see it play out in the days to come.
Kevin Smith's Sundance 2011 Diatribe (part 1 of 2) [NSFW]
[youtube]http://www.youtube.com/watch?v=rC5yeHehGbs[/youtube]