Movie Posters
KILL YOUR DARLINGS Reveals First Poster With Daniel Radcliffe & Dane DeHaan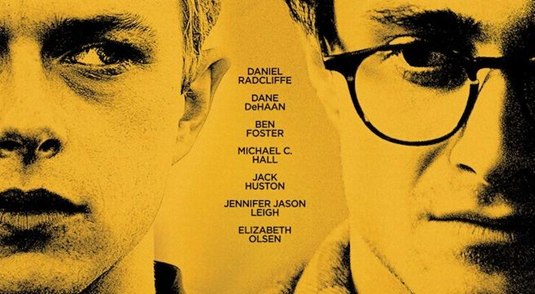 Here comes the very first (official) poster for John Krokidas' upcoming Kill Your Darlings movie, which is set to hit theaters this October. As you already see, it's all about Daniel Radcliffe aka Allen Ginsberg and Dane DeHaan aka Lucien Carr, who are here to tell us a true story of obsession and murder. Head inside to check them out! Krokidas directed the movie from a script he co-wrote with Austin Bunn, which revolves around David Kammerer's murder by Lucien Carr in 1944 that draws together the great poets of the beat generation. Beside Radcliffe who stars as Ginsberg, and DeHaan who plays Carr (in case you forgot, he introduced Kerouac, Ginsberg and Burroughs to each other) the rest of the cast includes Jack Huston, Ben Foster, Michael C Hall, Elizabeth Olsen and Kyra Sedgwick. Kill Your Darlings is set to hit theaters on October 18th, 2013, and the movie will tell us:
…the previously untold story of murder that brought together a young Ginsberg, Kerouac and Burroughs at Columbia University in 1944, providing the spark that would lead to their Beat Revolution. This is the true story of friendship and murder that led to the birth of an entire generation.
Don't forget to click on this poster to enlarge, and in case you've missed the first teaser trailer – now is your perfect chance to check it out!