BAFTA Awards
Made In Dagenham for Outstanding British Film and 3 More Bafta Awards
2010 British film titled Made In Dagenham and directed by Nigel Cole is definitely something that deserves our full attention.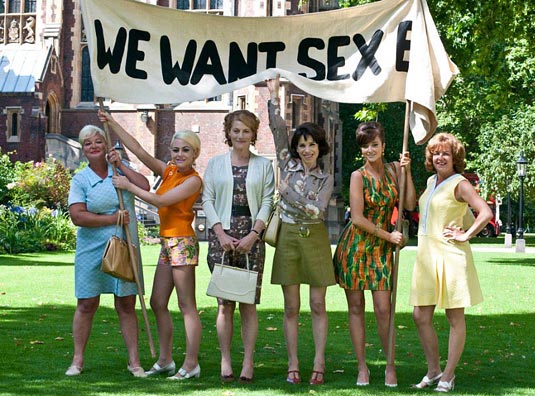 If you're asking why – then let me remind you that the movie was nominated for four awards at the 2010 British Academy Film Awards and at the 2010 Toronto International Film Festival premiere, the movie was described as  "combination of Milk and Mad Men." Sounds good?
So, when we're here at the beginning, let's take a look at the above mentioned nominations. Here are categories: Outstanding British Film, Costume Design, Make Up & Hair Design and Supporting Actress – Miranda Richardson.
Not bad, but if you ask the actress Rosamund Pike (also stars in the movie) she believes that Made in Dagenham deserved greater recognition.
In an interview with the BBC, Pike said British films were being unfairly overlooked in favour of Hollywood rivals as voters "watch them over Christmas."
In addition to that, Pike was particularly disappointed that lead actress Sally Hawkins and screenwriter Billy Ivory did not get Bafta nominations, saying: "Sally was the heart and soul of that film and I thought she did a phenomenal job."
Made In Dagenham is a dramatization of the 1968 strike at the Ford Dagenham assembly plant, where female workers walked out in protest against sexual discrimination. Note the women did not work at the Dagenham assembly plant but a mile or so away the other side of the rail tracks at the River Plant on Sammy Williams land near Dagenham Dock Station.
The Halewood based women also joined the strike. What looks like a victory for the women, and well deserved, became a loss as Ford firstly changed the design of the seat to delete the sewn covers the women made to a moulded in version – this made the jobs redundant. When sewn covers were reintroduced the work was outsourced by Ford to low cost labour locations.
Movie stars Sally Hawkins as Rita O´Gardy, Miranda Richardson as Barbara Castle, Rosamund Pike as Lisa, Jaime Winstone as Sandra, Bob Hoskins as Alfred Passingham, Richard Schiff as Robert Tooley, John Sessions as Harold Wilson, Kenneth Cranham as Peter Hopkins, Andrea Riseborough as Brenda, Geraldine James as Connie, Matt King as Trevor Innes and Oliver Payne as Himself.
Wish them good luck!
[youtube]http://www.youtube.com/watch?v=UHvz5kBkD0U&feature[/youtube]
Made In Dagenham Traier