Movie News
McCartney seeks Winehouse for 'Quantum of Solace'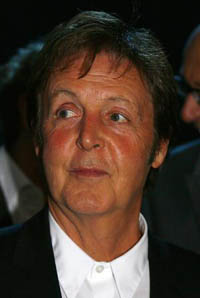 Sir
Paul McCartney
wants
Amy Winehouse
to sing the theme tune for the new James Bond film, '
Quantum of Solace
'. The Beatles legend – who sang the title track for hit 1973 Bond film 'Live and Let Die' thinks troubled singer Amy has the perfect voice for a theme song, and offered some advice to her. "I think Amy Winehouse would be really good, and I think she would do a really good job. My advice to her would be not to try and rhyme Solace with anything – that's too hard.", he said. Paul also said despite being responsible for one of the most popular Bond tunes of all time, he wouldn't want to have the responsibility again. "I definitely wouldn't do it again.
I have been trying to think of something to rhyme with Solace and all I can come up with is Wallace!
I don't envy whoever is going to do the song!", he added. Other singers who have recorded a 007 theme tune include, Dame Shirley Bassey, Tina Turner, Sir Tom Jones, Carly Simon and Lulu.