Movie News
Mia Wasikowska and Emma Stone in Spider-Man?
So, we already know that
Spider-Man
reboot is coming.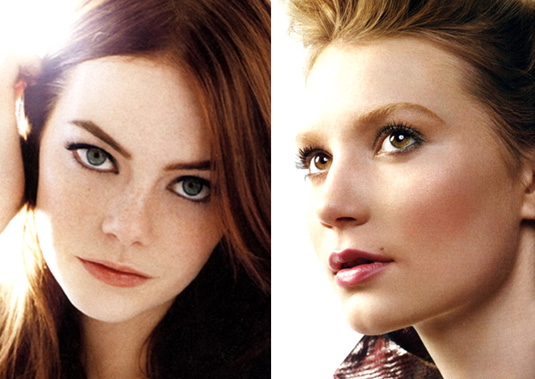 We also know that
Andrew Garfield
is set as Peter Parker, and we finally learned something more about the upcoming
Mark Webb
flick.
Emma Stone
and
Mia Wasikowska
are on the list of possibilities to play Pete's eventual sweetie! According to reports, "the two actresses are now in the mix, and supposes that means the roles are classic romantic interests Mary Jane Watson and Gwen Stacy. The immediate conclusion to draw is that Emma Stone would be Mary Jane and Mia Wasikowska Gwen Stacy." Let us also remind you that previous reported contenders include
Mary Elizabeth Winstead, Imogen Poots, Teresa Palmer, Lilly Collins, Emma Roberts
and
Ophelia Lovibond
. During the first planning of Spider-Man reboot, producers hinted that Mary Jane Watson would be gone. However, recent changes will include not one but two leading ladies for Peter Parker! Gwen Stacy is one of the leading ladies so the hunt is out for Watson's role. Filming is scheduled to begin in December so the chosen actress or actresses will likely be announced soon. Stay tuned!