Interview
Michael Moore says 'Fahrenheit 9/11' follow-up is not a sequel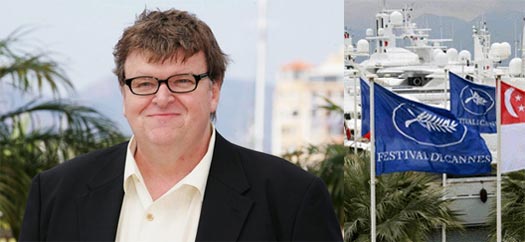 With his follow-up to "Fahrenheit 9/11," Michael Moore wants to examine America as an empire, study its standing since the Sept. 11 attacks and present revelations to surprise audiences as much as the first film did. But he doesn't want to make a sequel. "To just say it's a sequel is so wrong," Moore told The Associated Press yesterday at the Cannes Film Festival, where he met with potential international distributors for the film, due out in 2009. The documentary announced this week at Cannes will be a broader chronicle than "Fahrenheit 9/11," which took President Bush to task over the terrorist attacks and the Iraq war.
"It would be easier and safer to make a sequel, if that's all it was, but this isn't about Bush. We all know this. Regardless of who the president is come November, we have a big mess, a big, big mess to be cleaned up, and I don't know whether it can be cleaned up," Moore said. "The toxicity of the spill may be so great that there's nothing we can do about it. If that's the case, where are we now as America and as Americans?"
"Fahrenheit 9/11" won the top prize at Cannes in 2004 and went on to top $100 million at the domestic box office, the only documentary to hit that mark. Moore plans to keep details of the film to himself, saying he regretted talking too early about his health-care documentary "Sicko." Health insurers were able to mobilize against him, which "made it impossible for me to get in anywhere" for interviews, he said. The new film, which doesn't yet have a title, is being financed by Overture Films, which is handling the U.S. release, and Paramount Vantage, which is overseeing international distribution. Chris McGurk, chief executive officer of Overture, said the new film will be something of a culmination of Moore's previous work, which includes the General Motors tale "Roger & Me" and the Academy Award-winning gun-control documentary "Bowling for Columbine."
"The country has sort of been rotting from within, and the culprits are big business, big corporations, kind of the conservative government," McGurk said. "'Bowling for Columbine,' 'Sicko,' 'Roger and Me' all could have been episodes inside the context of this film."
While Moore said the new film would go beyond Bush, he dropped strong hints that the president would remain in his sights. "Our biggest enemy that we should have been afraid of during these last eight years was perhaps an internal one, and I don't mean ourselves," Moore said. "I mean people that were up to absolutely no good when it came to what was best for this country and best for the world.
"It's my sincere hope that next Jan. 20, it's not just a transition taking place at the White House, where the U-Haul pulls up to take his stuff to Crawford (Texas). I think there should be a perp-walk coming out of the West Wing. The crimes that these people have committed go far beyond – and I'm not saying it on any kind of an emotional level or what my feelings are about Bush or whatever. I think there are very specific things that need to be looked at in terms of what they've done."
Moore, 54, scolded Hollywood for shying away from the Iraq War early on. He said "Fahrenheit 9/11" was the only war film to become a hit because it came out at a time when it touched a nerve, prompting people to question U.S. military action. A recent wave of Iraq-themed movies bombed because support for the war has dwindled and most Americans now oppose it, he said. "Because they didn't have the courage to put these films out when they were needed, the public didn't get to see them, the war continued," Moore said.
"When they finally started putting them out really last year and into this year, 70 percent of the public was against the war. Seventy percent of the public already knew that the war was no good, and they didn't need to spend Friday night at a movie theater after they've been working hard all week to sit there and be told this war is really a bad idea."