Movie News
Venice Film Festival: "Capitalism: A Love Story"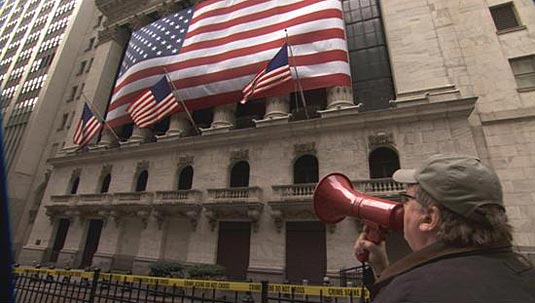 Michael Moore
made an appearance at the
Venice Film Festival
to promote his new documentary "
Capitalism: A Love Story
." Moore's says his film is dedicated to "good people … who've had their lives ruined" by the quest for profit.
"I am personally affected by good people who struggle, who work hard and who've had their lives ruined by decisions that are made by people who do not have their best interest at heart, but who have the best interest of the bottom line, of the company, at heart,"
"Capitalism: A Love Story" will explore the root causes of the global economic meltdown and take a comical look at the corporate and political shenanigans that culminated in what Moore has described as "the biggest robbery in the history of this country" – the massive transfer of U.S. taxpayer money to private financial institutions. The movie won was warmly received at a press showing Saturday evening and won positive reviews. Variety called it one of Moore's "best pics." Moore admits that many of the companies that financed this film will probably be unhappy with the final product.
"Why would these companies give money to me, a guy who is diametrically opposed to everything they stand for? One of the beautiful flaws of capitalism is they will use the rope you give them to hang themselves, if you can make a buck."
He adds, "I think this will be the last time they will give me that money."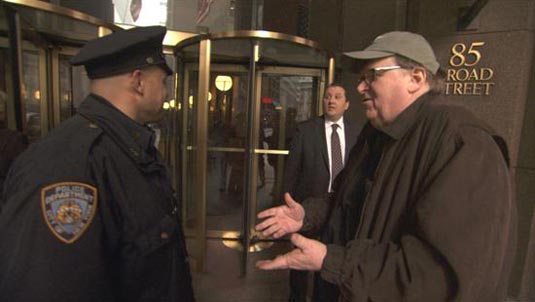 He went on to say that after getting a better idea of how America's Wall Street bankers function, he may never make another Hollywood-backed film again. And what better way to cut his ties with the studios than by making a film that targets them?
"I got the sense that they [Hollywood's moneymen] don't care what I think or feel … I thought, 'why don't I make a movie that will guarantee me never getting a dime from them again?,'" he said. "I think this is the last time they will give me that money."
Even without financing, he hopes to continue making documentaries. "I've been saving up my money from "Sicko" to get to this day. I will always make my own movies, now I have the money to make them." "Capitalism: A Love Story" is competing for the
Golden Lion
, which will be awarded Sept. 12.