Movie Photos
More Hi-Res The Adventures of Tintin: Secret of the Unicorn Images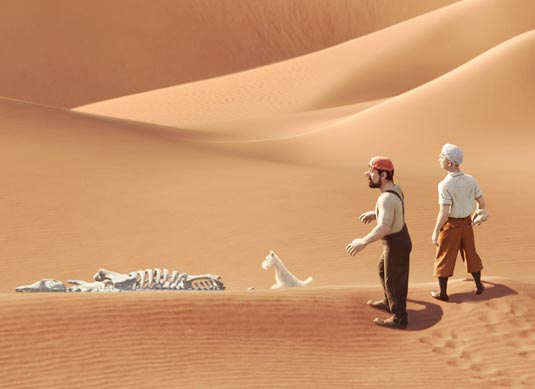 Today we have three new images from
Steven Spielberg
's highly anticipated
The Adventures of Tintin: The Secret of the Unicorn.
The Adventures of Tintin: Secret of the Unicorn
is the first in the series of 3D motion capture films based on the iconic character created by the Belgian artist Georges Rémi, better known to the world by his pen name Herge. The film will depict Tintin's (
Jamie Bell
) first encounter with Captain Haddock (
Andy Serkis
) and the discovery of a clue to the treasure of his ancestor Sir Francis Haddock. They set out to find it with protection from a prison escapee who tried to get the treasure as well as Detectives Thomson (
Nick Frost
) and Thompson (
Simon Pegg
).
The screenplay was penned by
Edgar Wright
(Scott Pilgrim vs. the World),
Joe Cornish
(Ant-Man) and
Steven Moffat
(Doctor Who) and co-stars
Daniel Craig
as Red Rackham,
Toby Jones
as Silk,
Mackenzie Crook
as Ernie,
Tony Curran
as Lt. Delcourt,
Cary Elwes
as Pilot and
Gad Elmaleh
as Ben Salaad.
The Adventures of Tintin: Secret of the Unicorn,
produced by
Peter Jackson,
comes to theaters December 23rd, 2011.
The Adventures of Tintin:The Secret of the Unicorn Images