Movie Photos
More Photos From ABRAHAM LINCOLN: VAMPIRE HUNTER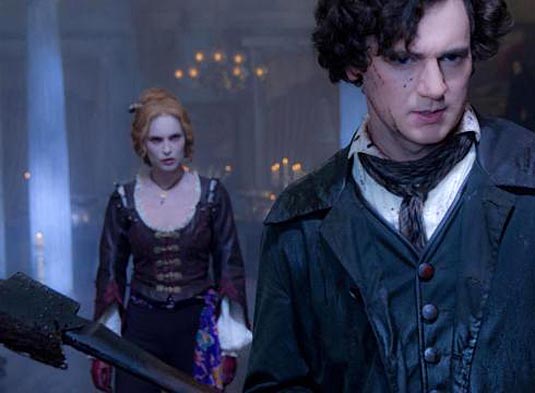 Six new photos have been released from Timur Bekmambetov-directed film Abraham Lincoln: Vampire Hunter. Based on author-screenwriter Seth Grahame-Smith's (Pride and Prejudice and Zombies, the upcoming Dark Shadows) book, the film mixes historical fact with a (fictional?) back-story that follows Lincoln (Benjamin Walker) as an ax-wielding vampire slayer whose own mother was was murdered by vampires.
Co-stars Mary Elizabeth Winstead as Mary Todd Lincoln, the President's wife; Dominic Cooper as Henry Sturges, Lincoln's fanged mentor; and Robin McLeavy as Nancy Hanks Lincoln, the former president's mother. Produced by Tim Burton (Edward Scissorhands, Sweeney Todd) Here's the synopsis for the film produced by Tim Burton (Edward Scissorhands, Sweeney Todd)
Abraham Lincoln: Vampire Hunter is a re-imagining of the 16th President's life that depicts him as an axe-throwing, highly accomplished killer of vampires — an obsession of his since those bloodsuckers supposedly took the life of his mother. Lincoln eventually learns that the vampires have fled to the southern states of the U.S. and are concocting a plan to conquer and enslave the entire country — this in turn leads to the Civil War between the Union and the Confederacy, the latter of which the vampires are aligned with.
Fox has scheduled to unleash the fantasy movie in theaters across the U.S. on June 22nd, 2012. [source: USA Today]