Movie News
More Than 7,000 Valiantly Protest YouTube's Censorship of THE LAST WAR CRIME Movie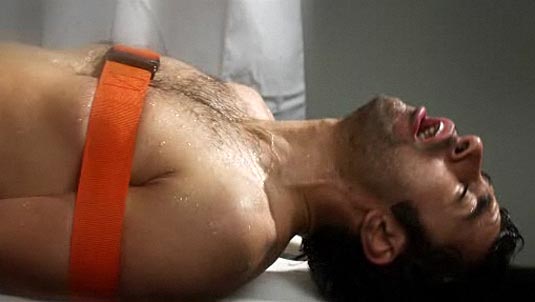 Last week The Pen, writer and director of "
The Last War Crime
" movie, appealed for a mobilization to protest YouTube's censorship of the preview waterboarding scene from this soon to be officially released feature film. YouTube's purported excuse for banning the video was they claimed it contained "nudity, pornography, or other sexually provocative content." Pen now reports that in response to more than 7,000 personal protest messages YouTube has tried to quietly reinstate the clip, while demands that YouTube implement real accountability continue to mount on the action page.
http://www.lastwarcrime.com
Says Pen, "
All these thousands of people shared our outrage and astonishment that YouTube should find anything to object to about our waterboarding scene, which in fact has no actual nudity in it … none whatsoever. But most importantly, even though this one video is now back up, we are demanding that YouTube provide a clear link where people can challenge any such wrongful censorship in the future. We may have had the social media resources to mobilize a substantial public outcry in this one case, but the next 99 people they cut down will not."
The following actual comments from the protest stream are typical:
"YouTube, are you kidding me?!" "The only obscenity is the use of torture by the U.S."
Christina Linhardt, the seasoned actress who portrayed the character of Female Interrogator in the waterboarding scene, had this to say:
"While preparing to perform the female interrogator in the scene, I experienced some emotional distress because of the reality of the situation. I had visited Guantanamo Bay in April 2006. This interrogation was not a fabricated movie moment. The U.S. military went against habeas corpus and tortured detainees. My heart was with all the unknown individuals who had been wrongly accused and suffered through waterboarding and other 'methods of finding information.' For those reasons, I knew we had to do this scene. Movies are not just for light entertainment, but to bring about awareness, and hopefully justice and change."
Pen adds,
"I cannot say enough about the brilliance of the actors in this scene, especially Christina. She perfectly captures and projects the haughty immaturity and over the top arrogance of the amateur torturers who trashed our national reputation. And the proof of that brilliance is … the illusion of her acting is so good that it pushed YouTube's button."
"The Last War Crime" is already in submission to the Cinequest Film Festival, the Ann Arbor Film Festival, SXSW, the Cleveland International Film Festival, the Tribeca Film Festival, the San Francisco International Film Festival, and the Seattle International Film Festival, seven of the top breakout venues for serious works of new film art, with an official release anticipated shortly after a film festival run.