Movie Photos
New CLOUDY WITH A CHANCE OF MEATBALLS 2 Image Teases Trailer Debut in 5 Days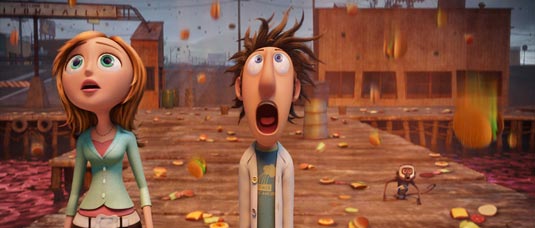 We've seen a handful of images from Cloudy with a Chance of Meatballs 2 that tease some great new food/animal hybrid creatures called "food-imals", and now a new image from the film has been released on Sony Animation Facebook page to announce the first trailer, which will be unveiled on February 27th. Check it out!
It seems that a new image will be released every day, counting down to the trailer drop, so don't forget to check us out daily for new images! Though first installment directors, Phil Lord and Chris Miller, are only producing the follow-up (they've been busy with 21 Jump Street and the Lego movie), the film looks to be in good hands with directors Cody Cameron and Kris Pearn (who worked on the first movie) and screenwriters John Francis Daley and Jonathan Goldstein (Horrible Bosses). Here's the official synopsis:
In the wake of the disastrous food storm at the end of the first movie, Flint Lockwood and friends are forced to leave their town of Swallow Falls. But when it is discovered that sentient food beasts have overrun the island, they are asked to return to save the world… again.
The film features the voices of Bill Hader, Anna Faris, Andy Samberg, Will Forte, Neil Patrick Harris and Terry Crews and it opens on September 27th, 2013.