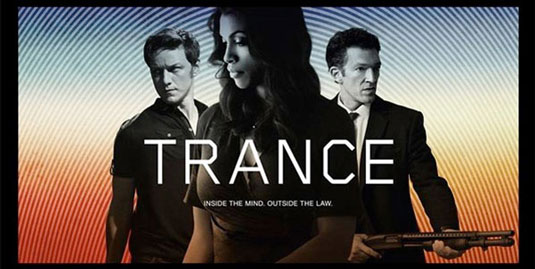 While Slumdog Millionaire and 127 Hours have their place (for good or bad) in his creative work, there's nothing quite like a Danny Boyle psychological thriller. The new Trance trailer, despite being greenband, plays up this dark, twisted angle – that Boyle is kinda "notorious" for – to full effect, and has a snap that supercedes the recent redband cut delivered.
Perhaps it's the dubstep effect, or maybe it's the clever digital glitching (which, for some reson, I find being in perfect resonance with the said dubstep), but no matter what, this is oh-so-clearly a movie by the same man that brought us both Trainspotting and Millions. I'll only say: Fuck yeah! and leave you to enjoy:
Synopsis:
Simon (James McAvoy), a fine art auctioneer, teams up with a criminal gang to steal a Goya painting worth millions of dollars, but after suffering a blow to the head during the heist he awakens to discover he has no memory of where he hid the painting. When physical threats and torture fail to produce answers, the gang's leader Frank (Vincent Cassel) hires hypnotherapist Elizabeth Lamb (Rosario Dawson) to delve into the darkest recesses of Simon's psyche. As Elizabeth begins to unravel Simon's broken subconscious, the lines between truth, suggestion, and deceit begin to blur.
Trance opens in the UK and Ireland on March 27th and April 5th, 2013 in the US.