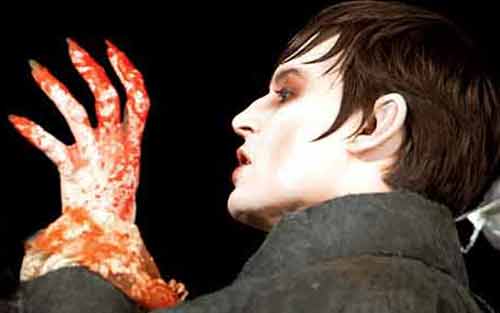 Don't know why, but I'm somehow interested in the upcoming Dark Shadows project. Not because it's one of those Tim Burton's big budget movies, but because I'm actually really interested to see Michelle Pfeiffer. It's just that she looks so unreal in this one, and with every new photo I'm more and more turned on. And no, I don't have a crush on Pfeiffer! I'm here just to present some new fresh photos from the whole thing, so give me a break! As you already know, the 1972-set film version focuses on Barnabas Collins (Johnny Depp), who was transformed into a vampire by a jilted lover Angelique (Eva Green) way back in the 1700s and buried. He's just been dug up, and attempts to reintegrate with his descendants, led by Michelle Pfeiffer's character Elizabeth and Jonny Lee Miller's Roger – despite the fact that Angelique is still around and still not in a forgiving mood. Well, I'm looking at these photos, and I must say – they convinced me!
In an interview with Empire, screenwriter Seth Grahame-Smith revealed: "Tim and Johnny took a long time explaining exactly why it had to be 1972. 1969 was too early and 1973 was too late. 1972 is right at the time when the hippie movement and all its peace and love is dying out and being replaced by this me-me-me generation in the '70s who are all about showing their wealth and having everything." On the other hand, they also learned that this project will be firmly 2D. Or, as producer Richard Zanuck shared with them: "We discussed this quite a bit. We didn't want to be categorised as another 3D extravaganza, because this isn't. We have action sequences, but mostly it's interaction between characters, and that's where the humour and the story come from."
I'm sure all Alice In Wonderland haters will be happy to hear this, and for those of you who are interested in Tim Burton's Dark Shadows, make sure you stay tuned, and don't forget – the movie will hit the theaters on May 11, 2012.