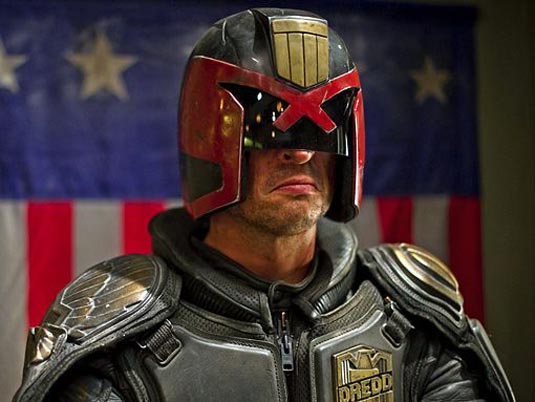 Check out a new featurette from
Dredd
as star
Karl Urban
, creator
John Wagner,
writer/producer
Alex Garland
, director
Pete Travis
and producer
Allon Reich
explore Urban's gritty take on the title character. Down below, you can also watch two new clips from the film. The upcoming film, based on Wagner's famed comic series, also stars
Lena Headey, Olivia Thirlby, Wood Harris, Domhnall Gleeson, Jason Cope, Santi Scinelli,
and
Deobia Oparei
. Dredd takes place in a futuristic, dystopian America, where the "vast, violent metropolis" Mega City One is patrolled by cops known as "Judges," serving as a judge, jury, and executioner all in one. The most effective (and feared) of these Judges is Dredd (Urban); hence, he's tasked to train and evaluate rookie Judge Cassandra Anderson (Olivia Thirlby). Things get real dangerous real quick when Dredd and Anderson investigate a crime that leads them to the "dangerous" side of town – and, eventually, the 200-story compound occupied by drug lord Madeline 'Ma-Ma' Madrigal (Headey) and her forces. This culminates in all-out warfare between Ma-Ma's clan and the Judges, who must stay alive within the criminal-infested confines of that massive infrastructure Dredd comes to 3D and 2D theaters  September 21st, 2012.
Clip #1
Clip #2
Featurette