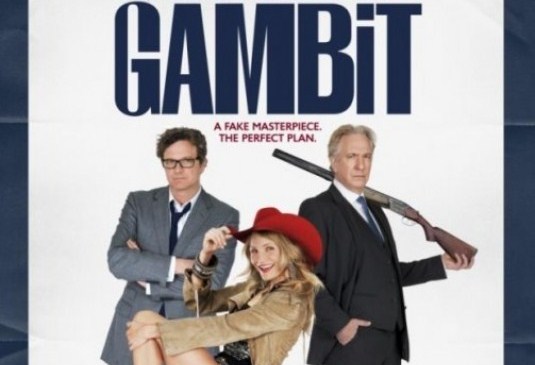 More Gambit updates folks! Right after those character posters with Colin Firth and Alan Rickman, here comes one fresh look at the leading trio. This one will teach you that a hot blonde is always enough to keep two men and one lion calm. Especially when that hot blonde is Cameron Diaz!
Michael Hoffman is in charge for the movie which is based on the 1966 British comedy where Michael Caine and Shirley MacLaine played the leads. Only this time, with Joel and Ethan Coen behind the script, the story sounds so much more interesting.
On one side we have Firth as British art curator Harry Deane who recruits a Texas rodeo queen, played by Diaz, to help him con the richest man in England. That man is an avid art collector Lionel Shabandar, played by Rickman.
And, if you ask me, probably the most interesting part of the whole thing is that Diaz' character will have to cross the pond and pose as a woman whose grandfather liberated the painting at the end of WWII. Man, that fake Monet painting will look so cool this time!
The rest of the Gambit cast includes Tom Courtenay, Stanley Tucci and Cloris Leachman.
The movie is still without an official USA release date, but don't worry, we'll let you know!