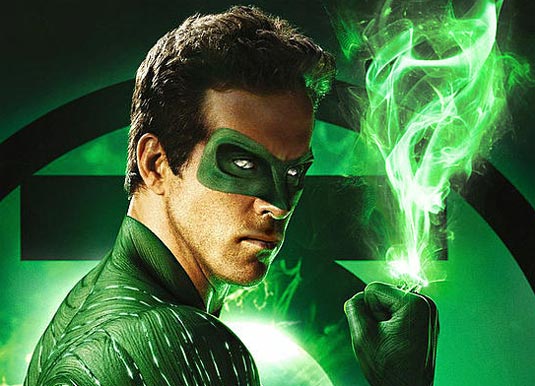 Today a new promotional image of  Ryan Reynolds as Hal Jordan and extended behind the scenes featurette (Subway Behind the Scenes) for director Martin Campbell's upcoming big-screen adaptation of Green Lantern have been released.
A test pilot (Reynolds) is granted a mystical green ring that bestows him with otherworldly powers, as well as membership into an intergalactic squadron tasked with keeping peace within the universe. Blake Lively starring opposite Reynolds as Hal's love interest Carol Ferris. Mark Strong and Peter Sarsgaard take the villainous roles of Sinestro and Hector Hammond respectively.
Additional cast include Blake Lively, Peter Sarsgaard, Mark Strong, Temuera Morrison, Jenna Craig, Jon Tenney and Tim Robbins.
Green Lantern is scheduled to hit 2D and 3D theaters on June 17th.

Ryan Reynolds as Hal Jordan, Green Lantern (2011)