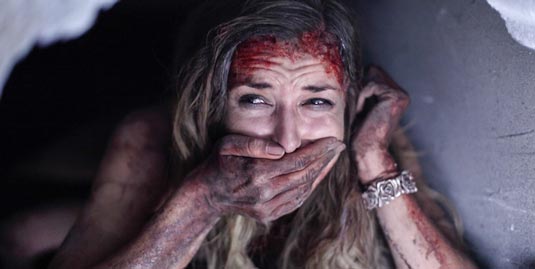 Eli Roth
's next directorial effort might seem to be a long way off, but he certainly isn't resting on his laurels – in 2012 he's busier than ever. Later this year, his co-written and co-produced martial arts film, The Man With The Iron Fists, directed by 
RZA
, will undergo its way to theaters, and on the festival grounds, he has something different coming, too. Co-written by Latin-American filmmakers
Nicolás López
(who also directs),
Guillermo Amoedo
and Roth, and starring and presented by him as well, the disaster thriller
Aftershock
is centered around the February 27, 2010 Chilean earthquake, with the fictional story about an asylum for mentally ill, whose inmates are freed during the quake.
Selena Gomez
appears, too. (Funny thing, there's apparently a Chinese film with the same title, with the quake in question being the one that happened in 1976, in Tangshan, China. The film is based on the book by Ling Zhang, and pays more attention to drama and the preciousness of the human life. Personally, this one seems more interesting.) Here's the official synopsis:
In Chile, an American tourist's vacation goes from good to great when he meets some beautiful women travellers. But when an earthquake ravages the underground nightclub they're in, a fun night quickly turns to terror. Escaping to the surface is just the beginning as they face nightmarish chaos above ground.
The movie will make its world premiere in the Midnight Madness lineup at Toronto Film Fest. No U.S. distributor yet, but I'm sure that if the people scream enough on premiere, there will be no problem finding one until 2013, when it is set to be released in US. Meanwhile, check the pics: