Movie News
New James Bond Book Called Carte Blanche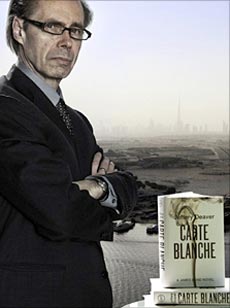 Wait, what, a book? Yeah, yeah, I already hear you screaming "We're here for movies, not books, why should we read about this?" Because, trust us, you are going to love this one! It has word "adventure" written all over it, and it makes such a perfect title for the next
James Bond
movie – just imagine this – James Bond,
Carte Blanche
! Not bad, not bad at all! The new James Bond book, written by thriller author
Jeffery Deaver,
whose best-seller
The Bone Collector
was made into a 1999 film starring
Denzel Washington
, will be called
Carte Blanche
. The novel is due for release on May 26 and this time, it takes our favourite superspy to Dubai. Author has promised to push the world's most famous fictional spy to "new extremes" and explore the question of how far he should go to protect national and international security. And if you want even more details, then let us add that the publishers say Bond "spends a number of thrilling hours in Dubai (in Bentley, as usual) both meeting up with an old friend and tracking a very disturbing villain," And, in addition to that, this time the story will be set in the present day. "Are there lines that even James Bond should not cross?" According to Deaver, that seems to be the whole idea of the novel, since he also said giving an agent carte blanche on a mission "comes with an enormous amount of trust and constantly tests both personal and professional judgment." So, anyone interested in some Dubai-action on a big screen?