Walt Disney Pictures has released three new featurettes and two posters for their upcoming
John Carter
, coming to 3D, 2D and IMAX 3D theaters on March 9th, 2012. The featurettes combines new footage that we haven't seen yet, behind the scenes interviews with director Andrew Stanton and the cast of the film, and several creative figures from the film talking it up.
Willem Dafoe
playing a nine-foot tall alien with extra limbs seems perfectly natural, and his Tars Tarkas looks like he'll be a lot of fun.
Taylor Kitsch
stars as Carter, a Civil War veteran inexplicably transported to the surface of Mars.
Lynn Collins
, who appeared in X-Men Origins: Wolverine with Kitsch, plays Dejah Thoris, the Princess of Burroughs' original title. The rest of the cast includes Dominic West, Polly Walker, Ciaran Hinds, Mark Strong, James Purefoy, Daryl Sabara, and Samantha Morton. Here's the official synopsis for the film:
From Academy Award(R)-winning filmmaker Andrew Stanton comes "John Carter"–a sweeping action-adventure set on the mysterious and exotic planet of Barsoom (Mars). "John Carter" is based on a classic novel by Edgar Rice Burroughs, whose highly imaginative adventures served as inspiration for many filmmakers, both past and present. The film tells the story of war-weary, former military captain John Carter (Taylor Kitsch), who is inexplicably transported to Mars where he becomes reluctantly embroiled in a conflict of epic proportions amongst the inhabitants of the planet, including Tars Tarkas (Willem Dafoe) and the captivating Princess Dejah Thoris (Lynn Collins). In a world on the brink of collapse, Carter rediscovers his humanity when he realizes that the survival of Barsoom and its people rests in his hands.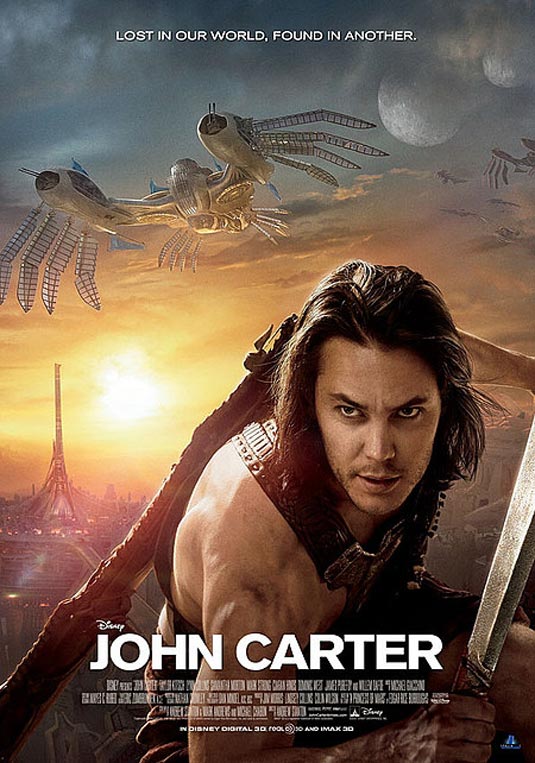 Featurette #1
Featurette #2
Featurette #3