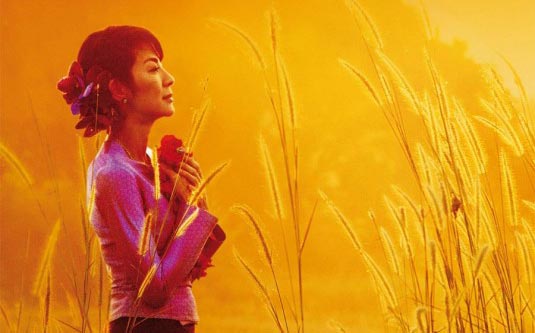 We already had a little chat about the upcoming Luc Besson's project titled The Lady and I'm sure you all remember this movie premiered at Toronto International Film Festival.
The reason we're here today is a new international trailer for this great project and I definitely recommend you to check it out!
Movie stars Michelle Yeoh as Aung San Suu Kyi and tells us the extraordinary story of this lady and her husband, Michael Aris (played by David Thewlis).
Basically it's the story of the peaceful quest of the woman who is at the core of Burma's democracy movement. Despite distance, long separations, and a dangerously hostile regime, their love endures until the very end.
The Lady is also a story of devotion and human understanding set against a backdrop of political turmoil that continues today.
It was written over a period of three years by Rebecca Frayn. Interviews with key figures in Aung San Suu Kyi's entourage enabled her to reconstruct for the first time the true story of Burma's national heroine.
The rest of the cast includes William Hope, Sahajak Boonthanakit, Teerawat Mulvilai and Antony Hickling but with Michelle Yeoh delivering such a strong performance I'm definitely in!
If you share my opinion, make sure you check her out on December 12th, 2011 when this movie comes to the theaters.