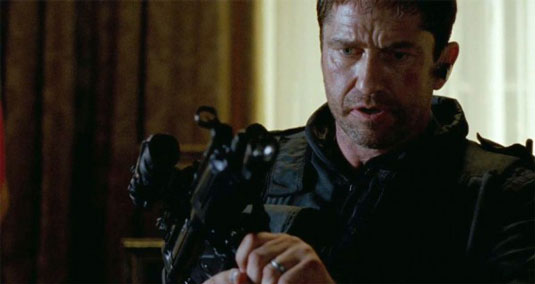 FilmDistrict has released a new TV spot and two new posters for the upcoming White House terrorist movie Olympus Has Fallen.
The movie is being described as "Die Hard in the White House," but I sincerely doubt it will be as good as Die Hard. In spite of having Gerard Butler, I'll pass on this one. After zombies, terrorist-themed films is another category that I've started being sick of.  In any case, check out the promo spot and posters below:
Synopsis:
When the White House (Secret Service Code: "Olympus") is captured by a terrorist mastermind and the President is kidnapped, disgraced former Presidential guard Mike Banning finds himself trapped within the building. As our national security team scrambles to respond, they are forced to rely on Banning's inside knowledge to help retake the White House, save the President, and avert an even bigger disaster.
Antoine Fuqua directed the film which also stars Aaron Eckhart, Morgan Freeman, Angela Bassett, Dylan McDermott, Ashley Judd, Melissa Leo and Rick Yune, and is set to be released on March 22nd, 2013.