Movie News
New Poster and Teaser Trailer for Korean Serial Killer Flick NEIGHBORS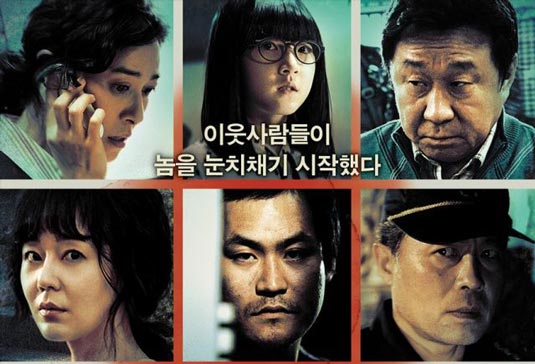 A dead girl and 8 suspects, who did it? Here's a new poster for
Neighbors
, a film I'm quite looking forward to which is set to be released on July 19th in Korea.
Kim Yunjin
(known to many as Sun from
Lost
) leads the strong cast which features many familiar faces. Check it out below.
Kim plays a woman whose stepdaughter is murdered by one of her neighbors and she now takes it upon herself to dig up the killer. Meanwhile another girl resembling the stepdaughter becomes the predator's next target. It's a simple plot but one that Korean filmmakers are good-as-ever at exploiting! Here's the trailer, take a look. There's not too much shown in its 30 secs, but I'd say quite enough to intrigue you into watching the movie, once it comes out. [youtube]http://youtu.be/Xbm7O1-1lrQ[/youtube] Stay tuned for more!