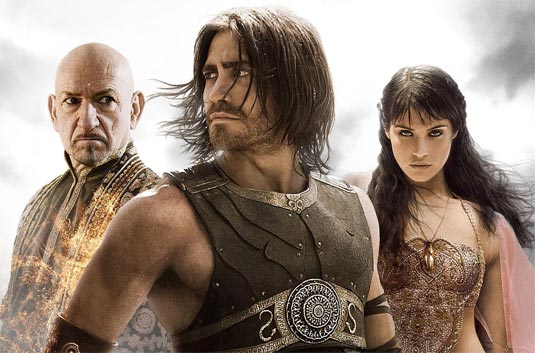 Thanks to Walt Disney Pictures, we now have brand new poster for the upcoming Prince of Persia: The Sands of Time movie. The studio has announced that their upcoming action adventure film, Prince of Persia: The Sands of Time, will get a simultaneous IMAX release. The official release: IMAX Corporation announced that the epic action-adventure Prince of Persia: The Sands of Time, from Jerry Bruckheimer Films, directed by Mike Newell and starring Jake Gyllenhaal, will be released to IMAX® theatres internationally with the film's wide release on May 28, 2010. The film's limited international IMAX release will be digitally re-mastered into the image and sound quality of The IMAX Experience® with IMAX DMR® technology. The crystal-clear images coupled with IMAX's customized theatre geometry and powerful digital audio create a unique environment that will make audiences feel as if they are in the movie.
"Once again our expanded network of IMAX locations is enabling us to offer moviegoers around the world more compelling content ideally suited to The IMAX Experience,"
said IMAX CEO Richard L. Gelfond.
"The success of our international theatre network is a key component of our growth, and we are delighted to secure this highly anticipated summer title for our international exhibitor partners."
"We're revved up that moviegoers throughout our international territories will have the opportunity to experience this epic adventure in IMAX theatres,"
added Greg Foster, Chairman and President, IMAX Filmed Entertainment.
"Walt Disney Pictures is continuing to add blockbuster releases to our growing slate, and it's a particular treat with 'Prince of Persia' as it kicks off our relationship with hit maker Jerry Bruckheimer."
Prince of Persia: The Sands of Time hits theaters everywhere on May 28, 2010. Set in the mystical lands of Persia, Prince of Persia: The Sands of Time is an epic action-adventure about a rogue prince (Jake Gyllenhaal) and a mysterious princess (Gemma Arterton) who race against dark forces to safeguard an ancient dagger capable of releasing the Sands of Time-a gift from the gods that can reverse time and allow its possessor to rule the world. The film is directed by Mike Newell with a screenplay by Boaz Yakin and Doug Miro and Carlo Bernard from a screen story by Jordan Mechner.
Prince of Persia Poster