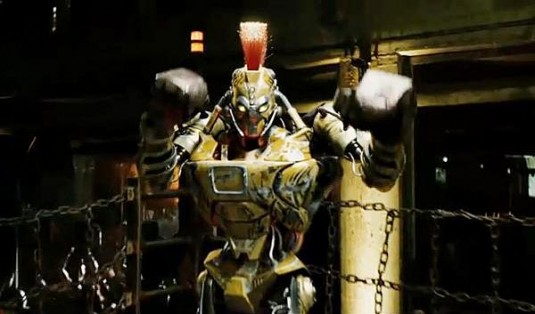 Get ready for something real, because it's time for Real Steel! You basically know everything about the upcoming Shawn Levy's science fiction film, but still, we're here to share something new with you, and it's going to be the full trailer!
Based on the 1956 short story Steel by Richard Matheson, and adapted for a big screen from a script by Leslie Bohem and John Gatins, this one definitely shows us great boxing skills of robots.
Here's the synopsis part: "A gritty, white-knuckle, action ride set in the near-future, where the sport of boxing has gone hi-tech, Real Steel stars Hugh Jackman as Charlie Kenton, a washed-up fighter who lost his chance at a title when 2000-pound, 8-foot-tall steel robots took over the ring.
Now nothing but a small-time promoter, Charlie earns just enough money piecing together low-end bots from scrap metal to get from one underground boxing venue to the next. When Charlie hits rock bottom, he reluctantly teams up with his estranged son Max (Dakota Goyo) to build and train a championship contender. As the stakes in the brutal, no-holds-barred arena are raised, Charlie and Max, against all odds, get one last shot at a comeback."
Real Steel also stars Evangeline Lilly, Kevin Durand and Anthony Mackie and the movie opens October 7, 2011. Enjoy this trailer, and stay tuned!